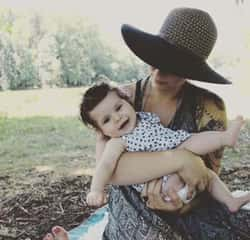 Our Roots

Ava Quinn's started because of my daughter, Mabel. She had dry skin at 6 months old. I eventually figured out it was the soaps we were using. all the products on the shelves were horrific. So I started making soaps for her. This was a lot of trial and error but, after a couple weeks I created a great recipe. My soaps helped tremendously so I kept going.
Since launching in 2017, we've expanded our product lines to include vegan skincare, haircare, makeup, and kids products, with fun, plant-based scents like carrot soap, papaya soap, lavender soap, and so many more.
Shop All Products
Clean Products for ALL

Ava Quinn's is a clean, vegan friendly, family soap company based in New Jersey. We source as much local ingredients as possible. Most of the herbs in our products come right from mine or neighbors backyards. We believe that finding natural soaps and moisturizing skincare products for your family shouldn't be hard!

We make products that truly make you feel clean, beautiful, empowered and loved from the outside in. You can feel great purchasing from Ava Quinn's knowing our natural skincare products are good for your skin and good for the environment.


Shop All Products